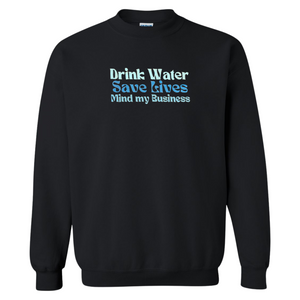 Drink H20, Save Lives & Mind My Business
Drink water, save lives and mind my business because let's normalize going to work doing your job, staying hydrated and minding your business. It's okay to focus on what you went to work to do without being involved in drama or healthcare politics. Sometimes the best thing you can focus on is you're patient and yourself.  
Embracing saving lives and minding the business that pays you one sweatshirt at a time. 
Original artwork designed by Tiffany // Beyond the Nurses' Station  ©
Material 

Design Embroidered on a Black Sweatshirt
Heavy Blend
50% cotton and 50% polyester
Classic Loose fit and Unisex sizing
Size Chart