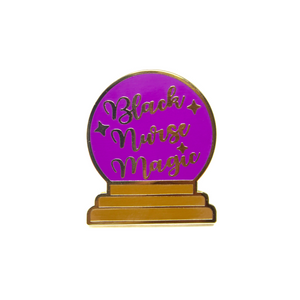 Black Nurse Magic
What is Black Nurse Magic?
Black Nurse Magic (BNM) is having all odds against you but showing resilience and strength. BNM represents less than 10% of the nursing workforce. It means being asked "are you a nurse" on multiple occurrences while wearing the badge that says LPN or RN. Black nurses many times have to deal with being "the only". Being one of the only in your clinical group, class, job, unit, department which faces its own challenges. 
Black nurses not only face obstacles in healthcare but in society as well . This pin represents some of the most underrepresented in healthcare pushing forward and not only overcoming the obstacles but surpassing them. 
Sprinkling black nurse magic one pin at a time.
Product Details
Measures approximately 1.06 inch (w) x 1.25 inch (h)
High quality, hard enamel pin with gold plated metal
Backstamped with BTNS logo
2 x Black Rubber Clutch Backing
Original artwork designed by Tiffany // Beyond the Nurses' Station 

©